Oregon: Portland Mayoral Candidate Says He Would Lead On Cannabis Policy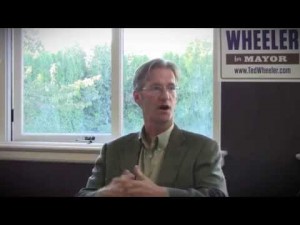 By Steve Elliott
Hemp News
Portland mayoral candidate and Oregon State Treasurer Ted Wheeler said at a roundtable this week that as mayor, he would lead on cannabis policy.
"First of all, let's acknowledge that this is a legal and regulated industry," Wheeler said. "Some of the issues I'd like to see resolved include banking.
"Right now, the cannabis industry does not have access to a legal banking framework," Wheeler said. "That means it's a high volume cash industry. That creates some public safety issues.
"It certainly makes it more difficult for the industry to be regulated the way people expect the industry to be regulated and frankly it makes it a very difficult proposition for those in the cannabis industry whether they're growers or whether they're suppliers or whether they're at the retail level," Wheeler said.
Wheler took a refreshing stand against the trend towards over-regulation of legal cannabis. Oregonians need only look north at their neighbor Washington to see the implementation of a wildly over-regulated legal marijuana industry, leading to unnecessarily high prices and over-taxation (a special 37 percent cannabis tax).
"Second of all, I believe that the mayor and the city should be working more closely with regional partners and state officials particularly with those at the Oregon Liquor Control Commission (OLCC) making sure that were not duplicating rules and regulations, making sure that were not putting undue expectations on the industry or undue costs by duplicating licensing fees, and just treat this industry with the same respect as any other legal and regulated industry in our state," Wheeler said.
"Finally, I'll say this, I think we need to start acknowledging that this is an industry with tremendous opportunity to help employ Portlanders and Oregonians at large," Wheeler said, giving the cannabis industry its due. "And, in a state that's concerned about job growth and concerned about real wage growth, this should be seen as the opportunity that it is to help grow our economy."
Footage: Campaign for the Restoration and Regulation of Hemp (CRRH) http://hemp.org