Oregon: Activists, Consumers Welcome Historic First Day of Legal Cannabis Sales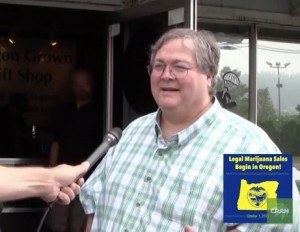 By Steve Elliott
Hemp News
Oregon's historic first day of legal cannabis sales on Thursday was a success, as marijuana consumers 21 and older statewide were, for the first time ever, able to legally buy retail weed without a medical authorization.
Lines snaked out the doors of many collectives at mid-day; the Tree House Collective on NE Sandy Boulevard in Portland had line of 8 to 10 customers out the door at around 1 p.m. By 5 p.m., the line was only a couple of people, and the wait had been reduced to around five minutes.
THC owner Nathan Roszina told Hemp News that creating separate queue and retail area for recreational customers was key in keeping down waiting times. Roszina said the shop wanted to address concerns from some patients that they might be subjected to long wait times due to the influx of recreational customers.
According to Roszina, the normal number of medicinal cannabis patients showed up for medicine; add to that all the first-time recreational customers, and it was a busy day. "It's been very steady all day long," Nathan told me. Many of the recreational customers, though, were curiosity seekers, according to Roszina, and only wanted to buy a gram or two.
This reporter only bought a couple of grams to mark the occasion, but both strains I tried -- Dawg Biscuits (28.64 percent THC, $13 a gram) and White Fire OG (28.93 percent THC $15 a gram), were excellent. I arrived at these decisions with the expert assistance of helpful bud tender Emily, who told me that while the whole day had been very steady, it had never reached the level of "crazy," thanks to the shop planning ahead.
Marijuana flowers, clones and seeds were available to recreational customers. Concentrates and edibles are still reserved for medical patients only; that will change when retail outlets open early next year. Medical marijuana dispensaries in Oregon were granted the right to cater to recreational customers through the end of the year under a tax holiday approved by the Legislature.
"It's great to finally be able to see legal cannabis and to buy some legally as an adult," said Paul Stanford, director of the Campaign for the Restoration and Regulation of Hemp (CRRH) which owns Hemp News. "I've been growing my own so I haven't really gone to these dispensaries before. This is the first time I've ever bought marijuana at a counter, over a cash register. It's what we've been working toward for many, many years, and I'm just happy the day has finally come."
"I figured I'd probably be doing this in about 1972, but it's taken a few years longer," said activist Steve Wessing of Hempstalk. "I've been going to Amsterdam for a very long time and buying recreational and social marijuana over the counter and sharing it -- we've got a long way to go before we're at that level, but it feels good to see a great start here today."
"It feels great," said Anthony Johnson of New Approach Oregon, which was behind Measure 91, the initiative which legalized recreational cannabis on Oregon. "It's a surreal moment, talking to you about the progress that we've made and really the long, hard fight over decades. I think about people who put decades into this fight, who weren't able to see daylight today, and it means a lot. We can stop this insane and barbaric practice of arresting people for cannabis all over the country."
"A lot of people have been waiting a long time to see this happen," said activist Eric Lewallen of CRRH. "It is showing the freedom that we all should have, and the right we all should have, to recreate and not only to medicate."
"It's unbelievable. We thought that this day was never going to come to reality, actually," said freedom fighter Mike Bifari of Argentina, who was in town for the big day. "We're really happy, and we're happy for the people of Oregon, that you went through the ballot and succeeded, and this is the result. We're really excited to be here!"
"This is a worldwide process that sooner or later will come to every place and every single spot in the world," Bifari said. "This is a key moment in history."
">