U.S.: 34-Year Police Veteran Neill Franklin To Receive Award At Drug Policy Reform Conference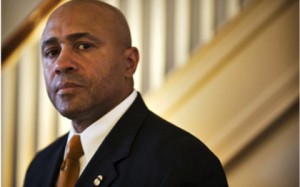 Leading Drug Policy Reformers to be Honored at International Drug Policy Reform Conference in Washington, D.C., on Saturday, November 21
Leading advocates for drug policy reform will be honored at an awards ceremony on Saturday, November 21, at the biennial International Drug Policy Reform Conference in Arlington, Virginiaa. The conference is being organized by the Drug Policy Alliance, promoting alternatives to the Drug War, and is cosponsored by dozens of other reform organizations.
Major Neill Franklin will be presented with the H.B. Spear Award for Achievement in the Field of Control and Enforcement. Franklin is being honored for his influential work changing hearts and minds both inside and outside the law enforcement community.
Over the course of his 34-year law enforcement career, Franklin watched hardworking and dedicated fellow police die in the line of fire enforcing policies that don't do any good. He spent 23 years with the Maryland State Police, including as an undercover agent and as the department's head trainer, before being recruited by the Baltimore Police Department to reorganize its education and training division.
As executive director of Law Enforcement Against Prohibition (LEAP) since 2010, Franklin has led an extraordinary collection of police, judges, prosecutors, prison superintendents, DEA agents, and others advocating for drug policy reforms by sharing their personal stories about serving on the front lines of the War On Drugs. Neill's courageous journey, and the conviction and compassion he carries with him, have made an immense impact on countless lives and on drug policy reform in the U.S. and abroad.
"Ultimately what has defined most of the world's greatest social justice leaders was their ability to self-reflect and to, when necessary, change course in order to meet the needs of the people they speak for and serve, rather than the political end that might be expedient or aggrandizing," said asha bandele, director of the advocacy grants program at the Drug Policy Alliance (DPA). "Major Neill Franklin stands as testimony to this as he has bravely challenged deeply upheld tenets that guided his 34-year career as part of Maryland's law enforcement community, in which he not only saw fellow officers die in the line of duty, but scores of men and women needlessly be herded off to prison because of a failed policy that made no one safer, and no neighborhood better."
Today, as head of LEAP, Neill bravely calls to action members of law enforcement and the larger community to abandon, in his words, "ignorance and greed," and engage courageously in the work it will take to prevent tragedy and honor life.
The DPA, which promotes policy alternatives to the Drug War, bestows the biennial H.B. Spear Award to those involved in law enforcement who have demonstrated a balanced regard for the needs of enforcement and human compassion. Previous recipients include the Seattle Police Department, DC representative for Blacks in Law Enforcement of America Ronald E. Hampton, former Seattle police chief Norm Stamper, former police commissioner of New York City Patrick Murphy, among other distinguished honorees.
The International Drug Policy Reform Conference, co-hosted by the Drug Policy Alliance in Arlington from Nov. 18-21, brings together more than 1,200 leading international experts, treatment providers, researchers, policymakers and key activists at the leading global forum on drug policy reform.
For more information or to register for the conference, please visit www.reformconference.org.
For complete list of award honorees, please visit http://www.drugpolicy.org/news/2015/11/leading-drug-policy-reformers-be-...