California: National Tech and Cannabis Influencers Convene In SF At New West Summit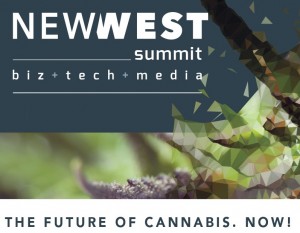 Tommy Chong's "Choice" Cannabis Brand, Upper Playground, SPARC, Christopher Willits, Lynette Shaw Added to San Francisco's Cutting-Edge Disrupt Conference
This Friday, nationally-renowned technologists, venture capitalists, media publishers, entertainment brands, and leaders in the multi-billion dollar marijuana industry will converge at the groundbreaking New West Summit.
Tommy Chong's cannabis brand Chong's Choice, the iconic San Francisco apparel brand Upper Playground, the award-winning SPARC dispensary, musician Christopher Willits, iconic activist Lynette Shaw, and California Assemblyman Rob Bonta are among the many highlights at New West Summit, this Friday and Saturday Nov. 20-21 at the Parc 55 Hotel San Francisco.
New West Summit's complete program, curated by David Downs, editor of "Smell the Truth" on SFGate.com, includes 30 panels or keynotes, and approximately 80 panelists from across the spectrum of tech, finance, media and the $10 billion marijuana sector.
"The event's tight focus and expert programming has garnered us significant buzz, and we're ecstatic at how well this first Summit has come together," said Summit co-organizers Dean Arbit and Jim McAlpine in a press release. "There's no better time or place in the world to be discussing the intersection of these industries."
Summit Highlights:
• Special guest and Marin Alliance for Medical Marijuana founder Lynette Shaw will receive Lifetime Achievement Honors Friday.
• Tommy Chong's brand of cannabis products, Chong's Choice, will make a special announcement this weekend at the Summit.
• Investment firm Casa Verde sends director Evan Eneman to deliver a Finance keynote Friday.
• SPARC and Upper Playground will reveal a new collaboration. SPARC will also run dispensary tours from the Parc 55 to its flagship store on Mission St. Friday afternoon for attendees and media.
• Rep. Rob Bonta will give remarks to open the Saturday afternoon panel on Marijuana Infused Products like edibles and tinctures.
• Noted San Francisco electronic musician Christopher Willits will perform a DJ set during the VIP Party Saturday night, sponsored by Headset, Bloom Farms, and 7X7.com.
For more information, and speaker bios and updates, visit www.NewWestSummit.com.
Tickets to New West Summit will sell out prior to the event. Sponsorships have sold out.