Oregon: Recreational Marijuana Sales Tax Begins Jan. 4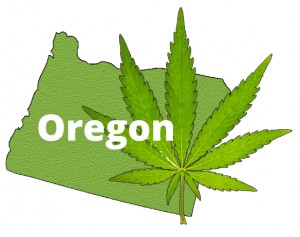 By Steve Elliott
Hemp News
All good things must come to an end, it seems, and it's the same with the Oregon weed tax holiday. Recreational marijuana consumers in the state will have to pay a 25 percent sales tax starting Monday, January 4.
The Oregon Legislature earlier this year approved allowing medical marijuana dispensaries to sell recreational pot to adults 21 and older, tax-free, starting on Oct. 1, reports Noelle Crombie at The Oregonian. But tax-free sales end on Monday, when the state imposes a tax that will last until the end of 2016.
The Oregon Liquor Control Commission isn't expected to open state-licensed recreational marijuana stores until late 2016; once that program is up and running, the 25 percent tax at dispensaries will be replaced with permanent 17 percent sales tax at recreational pot stores.
The Oregon Department of Revenue on Tuesday said they are prepared to deal with large sums of cash from dispensaries paying the new tax. Cameras have been added, employees have gotten security training, and a new "cash handling location" has been set up to accept large payments, according to the agency.
Marijuana's Schedule I classification under federal law has kept most traditional banks away from the business, fearing conspiracy charges and money laundering investigations. That means most marijuana transactions must be handled in cash.
The Department of Revenue has hired eight employees just to count the loot. Derrick Gasperini, speaking for the agency, said two people will be on hand to count up each cash payment.
"There are always two people to make sure everyone is honest in the process," he said.
Don Morse, who owns The Human Collective in Southwest Portland, said he hasn't seen evidence of stocking up by recreational consumers ahead of the tax. But, he said, recreational consumers typically buy smaller amounts anyway than do medicinal cannabis patients.
All sales of recreational marijuana, including flowers, immature plants, and seeds, will be taxed. Medical marijuana will remained untaxed; only caregivers or patients may purchase medical marijuana at dispensaries.
By law, dispensaries are allowed to keep 2 percent of taxes collected. The Oregon Department of Revenue will also keep some to cover the cost of administering the tax. After that, the law says 40 percent goes to the common school fund, 20 percent to mental health, alcoholism and drug services, 15 percent to the Oregon State Police, 10 percent for city law enforcement, 10 percent for county law enforcement and 5 percent to the Oregon Health Authority for alcohol and drug abuse prevention, early intervention, and treatment services.
Graphic: Cannabis Industry Today