Jamaica: Oaksterdam Sponsoring Stepping High Festival March 5-6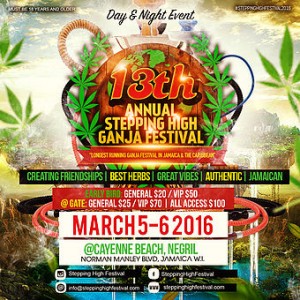 The Stepping High Festival, also known as the Jamaican Ganja Cup, is scheduled for March 5 and 6, 2016, in Negril, Jamaica. Offering an authentic Jamaican cultural experience built on the foundation of Rastafari culture and spirituality, family, community, friendship and love. The Stepping High Festival will feature exhibitions, entertainment and education—including seminars conducted by Oaksterdam University.
"Oaksterdam has partnered with Stepping High because of its focus on cannabis, the community, the Jamaican people, and the local jobs available because of the festival," said Dr. Aseem Sappal, provost and dean of faculty for Oaksterdam University. "Now is an exciting time. In addition to partnering with Stepping High, we're also working with the Jamaican government and the University of West Indies, where we are involved in helping lead important cannabis research and development."
Stepping High began in 2003 as an underground event promoted primarily by word of mouth and has become an enviable brand showcasing the finest strains of cannabis and a musical extravaganza that attracts thousands of people from around the world annually.
This year's event will feature two cannabis competitions to judge the highest quality Jamaican marijuana. The Best in the West contest entries will be from Western Jamaica, and the Nation's Best contest will include entries from ganja farmers island-wide.
Artists performing at the festival include: Akae Beka (Vaughn Benjamin of Midnight) performing for the very first time in Jamaica, China Smith and Inna mi yard experience, Prof I, King Fragrance, Dann-I, Loyal Flames, I- Wayne, Cali P, Ice Block, Wild Life, Terry Ganzie, Principal Grundy, Tuff like Iron, Empress Isachar, Empress Minott, Empress Joyce, Yung Jr, Kyng Sharlo & Anthony Abele.
In addition to the Jamaican Ganja Cup and entertainment, the festival will highlight a canna fashion show, a Dub Poet session, health and wellness activities, the launching of an exclusive Space Station, and much more.
Festival gates open March 5 from noon to 2 a.m., and March 6 from 10 a.m. to midnight.
Graphic: Stepping High