California: Vouchers For 2,000 Grams Of Weed To Be Given Away Friday At San Jose City Hall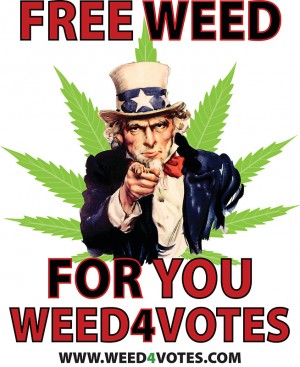 A California activist today announced he will be giving away vouchers for free weed at San Jose City Hall, Friday, February, 19, from 2 p.m. until 8 p.m.
Dave Hodges, founder of Weed4Votes, and the All American Cannabis Club, will give away vouchers for 2,000 grams of weed to California residents today, Friday, February 19, in San Jose, California, at San Jose City Hall.
This is part of Weed4Votes project called Weed4Voters, according to Hodges. The Weed4Voters program promotes awareness of the Marijuana Legalization efforts in the state for 2016.
During the Weed4Voters event, a voucher for 1 free gram of weed will be given to any California resident who provides their contact information to Weed4Votes.com.
What:
Weed4Voters will be passing out 2,000 vouchers for free grams of marijuana today, Friday.
When:
TODAY
February 19, 2016
2pm - 8pm
Where:
Across the street from San Jose City Hall
200 E Santa Clara St.
San Jose, CA 95112
Recreational marijuana users can redeem their vouchers for free pot after legalization passes. Medical marijuana patients may not have to wait for legalization to redeem their vouchers. "Patients are encouraged to ask their favorite cannabis collectives and delivery services if they are participating in the Weed4Voters voucher program," Hodges said.
Over the next few months Weed4Votes will give away up to 10,000 pounds of weed using three programs: Weed4Donations, Weed4Signatures and Weed4Voters, according to Hodges. "In each program, certificates for complimentary marijuana will be given to those that contribute to the cause," Hodges said.
"The certificates will be valid after the 2016 election, if legalization passes, and can be redeemed for an amount of free marijuana equal to the amount of the donation made," Hodges said.
In the Weed4Voters campaign, all California residents 18 and older can get a free gram of weed for providing their contact information, according to Hodges. "They do not have to be a registered voter, but must provide valid contact information to the website or at one of the Weed4Voters events throughout California," Hodges said.
More information is available at: http://Weed4Votes.com/4Voters
In the Weed4Donations program, Hodges will match every $25 donated to a participating non-profit or Political Action Committee (PAC) with 1-eighth of an ounce of marijuana, or one ounce for a donation of $200. There is no limit to how much the program will match. Once the donation is confirmed, certificates should be sent within 2 to 4 weeks. More information can be found at: http://Weed4Votes.com/4Donations
Weed4Signatures is a program for signature gatherers. For each valid signature collected, the Weed4Signatures program will give signature gatherers a certificate for 1 gram of free marijuana. This will be in addition to anything they are paid to gather signatures by any legalization campaign. The Weed4Signatures program is only valid on legalization petitions 15-0120, 15-0119, 15-0087, 15-0085, 15-0050 and 15-0044. More information can be found at: http://Weed4Votes.com/4Signatures
More information available at: http://www.Weed4Votes.com