California: Marijuana and Athletics Converge at Santa Monica Pier Saturday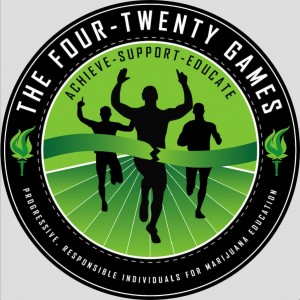 A new demographic and category in sports has emerged. Created to de-stigmatize cannabis and the people who use it, The 420 Games brings a message of fitness, wellness and health.
This Saturday, March 26, this new paradigm of athletics and medical cannabis use will be celebrated by more than 1,000 participants at The Santa Monica Pier. Having kept their cannabis use a secret for fear of judgement or persecution, athletes are now stepping out, inspired by this newly found 'CannaAthletics' movement.
Activists will walk, run, bicycle or skateboard to "Go the Extra Mile for Cannabis" in this 4.20 mile race; wheelchairs are welcome! Out in the water stand-up paddle boarders will follow course along the beach.
"In 2014, I stepped out and created this new genre of athletics and cannabis use in order to inspire the rest of the world to step out with me," said Jim McAlpine, founder of the 420 Games. "The 420 Games is humbled and honored to be credited with the creation of 'CannaAthletics'.
"The 420 Games' purpose is to emphasize that highly functional people, even professional athletes, use cannabis and are hardly the lazy stoners the world has portrayed," McAlpine said. "Fostering a new, positive mindset about those who use cannabis is going to be absolutely critical for the national legalization of marijuana."
Former NFL player and Heisman trophy winner Ricky Williams will attend. Special guest speakers will include LEAP (Law Enforcement Against Prohibition) member and retired Redondo Beach Police Officer Diane Goldstein, national cannabis thought leader and author of The Cannabis Manifesto, Steve DeAngelo, as well as Tracy Ryan, CEO of CannaKids.org and SavingSophie.org.
Look for special appearances by UFC fighter Kyle Kingsbury, NFL Pro-Bowler Kyle Turley and former NFL players from the Gridiron Coalition who will have their own team of former NFL players in attendance, including Eddie Lee "Boo" Williams who played for the New Orleans Saints.
Paradoxically, there will be NO SMOKING allowed at the pier portion of the day's festivities. EazeMD will be on site offering attendees the opportunity to obtain a medical cannabis evaluation and recommendation.
According to McAlpine, 420 Games advocates responsible adult use. "We are forging new outlooks and a new respect for both cannabis and the people who use it… a cloud of smoke over our heads at the pier - both literally and figuratively - is not the message we want to send out to the world," he said.
In contrast to the events in the sun at the pier, the concert and after party at V Lounge following the race will offer space to sample medical cannabis for those who have their medical recommendation. Shuttles will be provided from the race to the lounge. 'The 420 Games Village' after party will include yoga, magic, comedy, education, networking and LIVE music from reggae legend Pato Banton.
Over the past two years, hundreds have participated in 420 Games athletic events at San Francisco's Golden Gate Park. The 420 Games' Los Angeles debut is the first leg of a four-state, six-city tour. Upcoming event series will feature marathons, mountain bike races, stand-up paddleboard competitions and more. Future locales include San Francisco, Boulder, Denver, Portland and Seattle, according to organizers.
"Our attendance has doubled from the first event to the second; we expect thousands of people to come run or walk for cannabis respect on March 26 in LA," McAlpine said. "There is a passion and vibe of camaraderie at these events that is very inspiring to see."
The 420 Games are presented by WeedMaps and sponsored by O.penVAPE, SnowBomb.com, Lagunitas Brewing Company, Dixie Elixirs, and Eaze.
What: The 420 Games
When: Saturday, March 26, 2016, 9 AM – 2 PM
Where: Santa Monica Pier, Santa Monica, CA 90401
Highlights of the games & celebrities in attendance:
• Former NFL player and Heisman Trophy winner Ricky Williams will attend and run the race.
• Ultimate Fighting Championship (UFC) celebrity Kyle "Kingsbu" Kingsbury will be in attendance and running the race. Event promoters are challenging runners to "beat Kyle outside the ring". Anyone who that crosses the finish line before Kyle will gain free entry into 420 Games events for one year.
• Steve DeAngelo, a nationally recognized pioneer in the cannabis reform movement and Executive Director of the nation's model cannabis dispensary, Harborside Health Center, will give the keynote address.
• Coral Jeanne Smith from MTV's Real World. Also expected to attend are Marvin Gaye lll and Lou Rawls Jr.
• United 4 Bernie - The grassroots organization campaigning for Bernie Sanders will have a booth at the event.
• Weedmaps presents a skateboard demonstration, complete with a mini half-pipe, quarter-pipes, butter bench and more. Ramps provided by OC Skates.
• Post-race, all competitors will be treated to two hours of beer tasting from event sponsor Lagunitas Brewing Company of Petaluma, CA.
• A two-hour concert of positive vibes from international Reggae superstar Pato Banton!
• Former NFL Pro Bowler Kyle Turley and The Kyle Turley Band will open for Pato Banton.