U.S.: Town Hall With Dr. Angela Davis Will Look At Ending America's Obsession With Prisons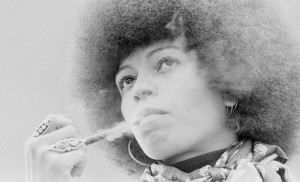 Live Interview with Drug Policy Alliance's asha bandele
Opportunity for Public to Listen In & Ask Questions: RSVP Required
Dr. Angela Davis, political activist and Distinguished Professor Emerita from the University of California, Santa Cruz, will join the Drug Policy Alliance's asha bandele on Monday, April 11 from 4–5pm EST, for a discussion about America's obsession with punishment and prisons and how to heal from the policies that have destroyed families and communities after nearly 50 years of the Drug War.
As Democracy Now describes Angela Davis: "For more than four decades, the world-renowned author, activist and scholar has been one of most influential activists and intellectuals in the United States. An icon of the 1970s black liberation movement, Davis' work around issues of gender, race, class and prisons has influenced critical thought and social movements across several generations. She is a leading advocate for prison abolition, a position informed by her own experience as a fugitive on the FBI's Top 10 most wanted list more than 40 years ago."
Angela Davis's talk is the seventh in a series of quarterly telephone town halls sponsored by the Drug Policy Alliance. The conversations seek to bring some of the most learned and influential people working in the field of drug policy before the general public so that together we can create an ever-more informed and shared understanding about drugs and society.
Previous town halls have featured thought leaders: Michelle Alexander, Eugene Jarecki, Stanton Peele, Reverend Frederick Haynes, Carl Hart, and Piper Kerman. These conversations have sparked national media coverage and have now been listened to and shared close to one million times.
What: DPA Town Hall Conference Call on Ending America's Obsession with Punishment & Prisons: A Conversation About Healing
Who: Dr. Angela Davis, Political Activist, Distinguished Professor Emerita, University of California Santa Cruz
asha bandele, Senior Director, Grants, Partnerships and Special Projects, Drug Policy Alliance
When: Monday, April 11, 4:00 – 5:00 pm EST
How: The call is free and open to the public, but space is limited and registration (RSVP) is required. To register for the call, please click here.