D.C.: Marijuana Advocates Light Up In Public At Capitol's First Cannabis Fest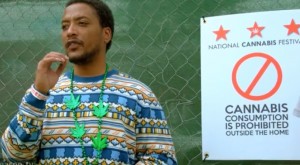 By Steve Elliott
Hemp News
About 5,000 people attended the inaugural National Cannabis Festival on Washington, D.C.'s RFK Stadium fairgrounds on Saturday, with the goals of bringing together the District's newly legal marijuana industry and advocating for broader legalization.
"We're going to keep pushing until we get the laws that we want," said NCF organizer Caroline Phillips, reports Joshua Swain at Reason.com.
Revelers bought pipes and bongs, learned best indoor cultivation practices, and picnicked while enjoying an open-air concert at the festival.
NCF had officially banned marijuana use at the event, and public consumption of cannabis is illegal on federal land. But some attendees lit up anyway, and park security looked the other way.