Georgia: Battle Over 'No Buzz' Medical Marijuana Law Turns To Civil Disobedience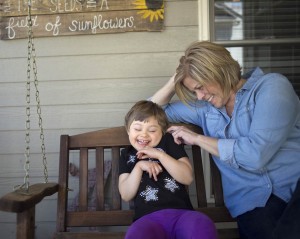 By Steve Elliott
Hemp News
A civil disobedience campaign is now underway in Georgia to try to force legislators to expand the state's weak CBD only medical marijuana law, which left a lot of suffering children without legal access to the medicine they need.
A Georgia mpom is helping lead that fight to expand the state's extremely limited medical marijuana law, which she said unfairly excludes many patients with severe medical conditions, including her five-year-old autistic daughter, who could benefit from the medicinal properties of cannabis.
"There are some pretty tenacious parents who are fighting," said Jennifer Conforti, whose daughter, Abby, isn't covered by the current "CBD-only" law, written by lawmakers who understand neither the medicinal properties of cannabinoids, nor, according to Sue Rusche, president and CEO of the Atlanta-based drug prevention organization National Families in Action,m the process of drug approval.
Georgia is one of 17 conservative states in the South and the Midwest which have passed so-called "CBD only" medical marijuana laws since 2014, reports Mike Brunker at NBC News. The laws are a convenient way for cowardly state lawmakers to appear to be "doing something" about the need for medical marijuana in their states, especially by children, while remaining politically risk-free.
The laws allow patients with certain medical conditions to legally use products derived from marijuana that are high in cannabidiol (CBD), but low in tetrahydrocannabinol (THC), the main component responsible for the "high" of cannabis.
Georgia's law was approved with overwhelming support in the Legislature and signed by conservative Republican Gov. Nathan Deal at the time.
State Rep. Allen Peake last year introduced HB 1, which would expand the list of allowable conditions for CBD oil to eight: seizure disorders, Crohn's, mitochondrial disease, severe ALS, multiple sclerosis, Parkinson's, sickle cell, and caner. The bill would also raise the allowable THC level in the products from .03 percent to 5 percent.
Peake's 2015 bill won overwhelming support in the Legislature and was signed into law by Gov. Deal, who got choked up at the signing ceremony as dozens of children with debilitating conditions looked on, along with their families.
But the law didn't establish a system for cultivation, processing or distribution, leaving patients with the only option of violating state or federal law by traveling across state lines or using the mail to get CBD products. The law quickly ran into opposition from residents who said it excluded their medical condition or didn't provide any relief, because of the very low THC levels allowed. It's as if cannabis were being asked to treat patients with one arm tied behind its back.
Conforti said that by experimenting with different products, she was able to learn that the best dose for Abby's condition is far higher in THC than is allowed by Georgia's medical marijuana law. "For Abby, the best ratio or component mixture is at least 70 to 75 percent combination of THCa [raw THC acid, which is nonpsychoactive] and THC," she said. "She has a neurological issue in her brain and the THCa and THC help to calm those nerve synapses so her brain can calm down and perform better."
Rep. Peake led another effort this year to relax the THC limit, authorize in-state cultivation and distribution of CBD oil, and expand the list of allowable conditions to include HIV/AIDS, PTSD, autism, Tourette's and several others. But this time the legislation got a much chillier reception.
First, in-state cultivation was axed by a House committee. Then the Senate Health and Human Services Committee failed to vote on the measure at all, which meant the full Senate never got to vote on it before the Legislature adjourned on March 24.
Gov. Deal also was too tremulous to offer his support this time around; apparently he was scared of the in-state cultivation clause.
"There is no appetite to move any legislation, sign any legislation, or even gather additional information to write legislation on this issue," his chief of staff, Chris Riley, told Peake in a November 2015 email obtained by NBC affiliate WXIA.
Opponents of the CBD only legislation, including law enforcement and anti-drug abuse groups, regrouped after last year's defeat and mounted a campaign to undercut support for the law and educate legislators about the lack of hard science behind CBD products.
The effort was conducted by the "Let's Be Clear Georgia" coalition and was documented in a recent presentation, "How Georgia Avoided Commercial Marijuana." The group also distributed a list of "12 Myths of Medical Marijuana" to Georgia lawmakers.
Rusche, of the anti-drug group National Families in Action, which was active in the coalition, said that CBD only medical marijuana laws like Georgia's "don't work for a whole lot of reasons," including shaky science. "They are poorly written by people who don't understand the process of approving a drug," she told NBC News.
The opposition boiled down to just one concern, according to Peake: that by creating a system of cultivation and distribution for patients, the state would be "heading down a slippery slope toward legalization, that we're going to be Colorado next."
Peake said he doesn't favor recreational legalization, but the state needs to provide patients in need with safe, regulated source of CBD products for relief. He said the law should allow higher levels of THC for those who need them, and should be expanded to include more conditions.
Joshua Littrell of Veterans for Cannabis said that even Peake's effort last year would have left many veterans in the cold, even though it added PTSD to the allowable conditions. "The biggest problem we veterans face is CBD alone usually doesn't help with PTSD and pain management," he said, though it does often help those with traumatic brain injuries. "It's absolutely asinine because those afflict more veterans."
The civil disobedience part of a loose-knit group of patient advocates' strategy usually means having participants visit their local sheriff's office to inform them they are violating the law by using CBD oil with a higher THC level than legally allowed, or for a non-authorized condition, and explain why, according to Conforti. So, no members of the group are known to have been cited or arrested.
Peake is also participating to an extent, helping provide eligible Georgians with CBD oil if they are unable or unwilling to get it for themselves. "We make sure that families properly registered with the state get access to medical cannabis, including delivering it to them if that's the only way we can make that happen," he told NBC News.
"We're trying to fix the problem of forcing people to either break the law or see their loved ones suffer," Peake said. "That's a terrible situation we're putting our citizens in, not just here in Georgia but across the country."
Conforti said he group's efforts will continue until lawmakers really they can't walk away from the mess they've created.
"I'm not advocating for recreational use," Conforti said. "It's for my daughter. She actually has a quality of life now. We've been doing it for a year-and-a-half now and we're not going to stop."