Pennsylvania: Medical Marijuana Safe Harbor Temporary Guidelines Completed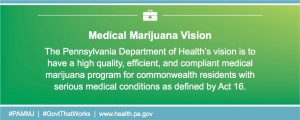 Pennsylvania Secretary of Health Dr. Karen Murphy on Friday announced that temporary guidelines for the Safe Harbor provision of the state's Medical Marijuana Program are complete and can be viewed online or in the June 25 edition of the Pennsylvania Bulletin.
The department announced that it developed the Safe Harbor temporary guidelines "to thoroughly and carefully outline the specific requirements that must be followed when a parent, legal guardian, caregiver, or spouse is applying to obtain medical marijuana to administer to minors who have a physician-documented serious medical condition."
"In July, parents, legal guardians, caregivers, and spouses will be able to apply to the department for a Safe Harbor Letter that will allow them to administer medical marijuana obtained from outside of Pennsylvania to minors in their care," said Secretary Murphy. "Once approved, the letter should be carried whenever medical marijuana is being transported outside of an individual's home."
Parents, legal guardians, caregivers, and spouses who will be applying for the letter should prepare ahead of time to ensure they have everything they will need to complete an application. All applicants will need a picture ID, will have to complete a background check, and must also obtain a completed Safe Harbor Letter Physician Form from the minor's Pennsylvania-licensed doctor.
Applicants should visit the department's website for information regarding additional documentation that may be required.
While the Safe Harbor Letter is intended to serve as approval for Pennsylvania parents, legal guardians, caregivers, and spouses to possess and administer medical marijuana to minors within their care in the commonwealth, marijuana is a Schedule I controlled substance under federal law. The U.S. Department of Justice has the federal authority to enforce civil and criminal federal laws relating to marijuana use and possession.
The Department of Health intends to issue temporary regulations sequentially for growers/processors; dispensaries/laboratories; physicians; patients and caregivers, as well as certain research institutions, and anticipates these regulations will be completed by the end of this calendar year. The temporary regulations will explain the medical marijuana program's operation and will be in place for two years from the date they are published.
"We are actively working to implement a high quality, efficient, and compliant medical marijuana program in Pennsylvania," Murphy added. "The department welcomes and encourages input from the public, its partners, and stakeholders during the temporary regulation drafting process."
A short survey regarding the dispensaries/laboratories temporary regulations is available on the department's website through the close of business on July 5.
The medical marijuana program was signed into law as Act 16 of 2016 by Governor Tom Wolf on April 17, 2016, and became effective one month later on May 17. The implementation of the program is expected to take between 18 and 24 months and, when completed, will offer medical marijuana to patients who are residents of Pennsylvania and under a physician's care for the treatment of a serious medical condition as defined by the act.
Questions about the medical marijuana program can be emailed to RA-DHMedMarijuana@pa.gov. Information is also available on the Department of Health website at www.health.pa.gov.
Rules and Regulations, Pennsylvania Medical Marijuana Program