Oregon: Cannabis Lobby Day at the Capitol, February 8th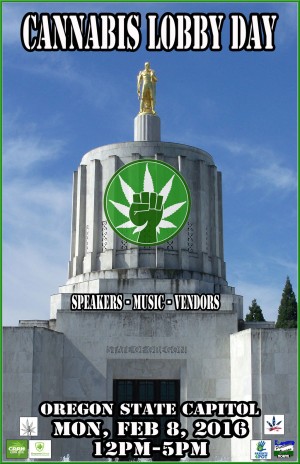 By CRRH Staff
Campaign for the Restoration and Regulation of Hemp (CRRH), along with several other cannabis organizations, will be participating in Cannabis Lobby Day at the Oregon State Capitol on Monday, February 8, 2016. The free speech event, will feature speakers, music and vendors, will be held from 12pm to 5pm.
* Protect the OMMP and continue the fight for patient rights and access to medicine.
* Prevent over-regulation of marijuana under M91 by the OHA, OLCC, OAC and ONI that could hinder, rather than aid, the creation, regulation and stabilization of legal marijuana related businesses.
* No Federal Scheduling - Support the effort to remove cannabis from the Controlled Substances Act. It is time for the federal government to remove cannabis from the Controlled Substances Act.
* Show support for social cannabis clubs. Clubs are an essential aspect of our culture and there should be allowance for these types of clubs.
* Network with Other Local Groups – CRRH, The Human Solution International, Oregon Chapter of Parents 4 Pot, Portland NORML, Cannabis Liberation Front and more!
All are encouraged to attend. We suggest to those who cannot attend to call or write to your representative and fill their inbox and voice mail with your input! Make your voice heard!
Press conference to be held at 12pm.
-----
Before arriving at the Oregon Capitol, you will want to know your State Senator and State Representative's name & Salem office address. It is helpful to know what they look like.
https://www.oregonlegislature.gov/findyourlegislator/leg-districts.html
It is extremely encouraged to call ahead of time and set up an appointment time with both your State Senator and State Representative. Since you are taking the time to go to Salem you should be able to get at least a few minutes with each of the lawmakers who represent you, however without calling ahead to setup an appointment there is no guarantee that they will be able to meet with you.
Upon arriving at the Capitol, several organizations and cannabis businesses will be rallying and passing out literature. There will be info sheets on all the bills we are tracking.
Go to your State Senator and State Representative's offices (these will be two different offices) and ask the Legislative Assistant if you can have a few minutes of the lawmaker's time or that you are there for your scheduled appointment. If you are able to speak to them, let them know that you are a constituent and have traveled to Salem to share your feelings about legalizing cannabis, protecting the OMMP and the need for hemp cultivation. Ask them how they would vote on specific bills. If the lawmaker is not in their office, ask the assistant where they are.
If your Rep. is in a committee hearing or meeting it helps to go to that specific room and wait for them to come out. Once they exit the room, approach them, introduce yourself and let them know why you came to Salem. Feel free to share your thoughts with them but be polite and respectful of their time. If possible, document their response.
If you are unable to speak to your Rep, leave them a typed or hand written letter letting asking them their stance on the issue. When you get home, follow up with an email to continue the dialog.
02/08/16 - 8:00am Room HR343 - Senate Committee On Judiciary
Senator Sara Gelser
Democrat - District 8 - Corvallis, Albany, Philomath, Millersburg, Tangent, and unincorporated parts of Linn and Benton County
Capitol Phone: 503-986-1708
Capitol Address: 900 Court St. NE, S-405, Salem, Oregon 97301
Email: Sen.SaraGelser@state.or.us
Website: http://www.oregonlegislature.gov/Gelser
Senator Jeff Kruse
Republican - District 1 - Roseburg
Capitol Phone: 503-986-1701 District Phone: 541-580-3276
Capitol Address: 900 Court St. NE, S-315, Salem, Oregon 97301
District Address: 636 Wild Iris Lane, Roseburg, Oregon 97470
Email: Sen.JeffKruse@state.or.us
Website: http://www.oregonlegislature.gov/kruse
Senator Floyd Prozanski
Democrat - District 4 - South Lane and North Douglas Counties
Capitol Phone: 503-986-1704 District Phone: 541-342-2447
Capitol Address: 900 Court St. NE, S-415, Salem, Oregon 97301
District Address: PO Box 11511, Eugene, OR 97440
Email: Sen.FloydProzanski@state.or.us
Website: http://www.oregonlegislature.gov/prozanski
Senator Kim Thatcher
Republican - District 13 - Keizer
Capitol Phone: 503-986-1713
Capitol Address: 900 Court St. NE, S-307, Salem, Oregon 97301
Email: Sen.KimThatcher@state.or.us
Website: http://www.oregonlegislature.gov/Thatcher
Senate President Pro Tempore
Diane Rosenbaum
Democrat - District 21 - Portland
Capitol Phone: 503-986-1721 District Phone: 503-231-9970
Capitol Address: 900 Court St. NE, S-213, Salem, Oregon 97301
District Address: 1125 SE Madison Street, Suite 204, Portland, OR 97214
Email: Sen.DianeRosenbaum@state.or.us
Website: http://www.oregonlegislature.gov/rosenbaum
----------
02/08/16 - 1pm Room HR B - Senate Committee On Business and Transportation
Senator Lee Beyer
Democrat - District 6 - Springfield
Capitol Phone: 503-986-1706
Capitol Address: 900 Court St. NE, S-419, Salem, Oregon 97301
Email: Sen.LeeBeyer@state.or.us
Website: http://www.oregonlegislature.gov/beyer
Senator Fred Girod
Republican - District 9 - Stayton
Capitol Phone: 503-986-1709
Capitol Address: 900 Court St. NE, S-401, Salem, Oregon 97301
Email: Sen.FredGirod@state.or.us
Website: http://www.oregonlegislature.gov/girod
Senator Rod Monroe
Democrat - District 24 - Portland
Capitol Phone: 503-986-1724 District Phone: 503-760-4310
Capitol Address: 900 Court St. NE, S-409, Salem, Oregon 97301
District Address: 7802 SE 111th Avenue, Portland, OR 97266
Email: Sen.RodMonroe@state.or.us
Website: http://www.oregonlegislature.gov/monroe
Senator Chuck Riley
Democrat - District 15 - Hillsboro
Capitol Phone: 503-986-1715
Capitol Address: 900 Court St. NE, S-303, Salem, Oregon 97301
Email: sen.chuckriley@state.or.us
Website: http://www.oregonlegislature.gov/riley
Senator Chuck Thomsen
Republican - District 26 - Hood River
Capitol Phone: 503-986-1726
Capitol Address: 900 Court St. NE, S-316, Salem, Oregon 97301
Email: Sen.ChuckThomsen@state.or.us
Website: http://www.oregonlegislature.gov/thomsen
----------
02/08/16 - 3pm Room HR 343 - House Committee On Judiciary
Representative Jeff Barker
Democrat - District 28 - Aloha
Capitol Phone: 503-986-1428
Capitol Address: 900 Court St. NE, H-480, Salem, Oregon 97301
Email: Rep.JeffBarker@state.or.us
Website: http://www.oregonlegislature.gov/Barker
Representative Brent Barton
Democrat - District 40 - Clackamas County
Capitol Phone: 503-986-1440
Capitol Address: 900 Court St. NE, H-275, Salem, Oregon 97301
Email: Rep.BrentBarton@state.or.us
Website: http://www.oregonlegislature.gov/Barton
Representative Mitch Greenlick
Democrat - District 33 - Portland
Capitol Phone: 503-986-1433
Capitol Address: 900 Court St. NE, H-493, Salem, Oregon 97301
District Phone: 503-297-2416
District Address: 412 NW Couch St #104 Portland, OR 97209
Email: Rep.MitchGreenlick@state.or.us
Website: http://www.oregonlegislature.gov/Greenlick
Representative Wayne Krieger
Republican - District 1 - Gold Beach
Capitol Phone: 503-986-1401
Capitol Address: 900 Court St. NE, H-381, Salem, Oregon 97301
Email: Rep.WayneKrieger@state.or.us
Website: http://www.oregonlegislature.gov/Krieger
Representative Ann Lininger
Democrat - District 38 - Lake Oswego
Capitol Phone: 503-986-1438
Capitol Address: 900 Court St. NE, H-485, Salem, Oregon 97301
Email: rep.annlininger@state.or.us
Website: http://www.oregonlegislature.gov/lininger
Representative Andy Olson
Republican - District 15 - Albany
Capitol Phone: 503-986-1415 District Phone: 541-967-6576
Capitol Address: 900 Court St. NE, H-478, Salem, Oregon 97301
District Address: PO Box 891 Albany, Oregon 97321
Email: Rep.AndyOlson@state.or.us
Website: http://www.oregonlegislature.gov/Olson
Representative Bill Post
Republican - District 25 - Keizer
Capitol Phone: 503-986-1425
Capitol Address: 900 Court St. NE, H-373, Salem, Oregon 97301
Email: rep.billpost@state.or.us
Website: http://www.oregonlegislature.gov/post
Representative Sherrie Sprenger
Republican - District 17 - Scio
Capitol Phone: 503-986-1417
Capitol Address: 900 Court St. NE, H-388, Salem, Oregon 97301
Email: Rep.SherrieSprenger@state.or.us
Website: http://www.oregonlegislature.gov/Sprenger
Representative Jessica Vega Pederson
Democrat - District 47 - Portland
Capitol Phone: 503-986-1447
Capitol Address: 900 Court St. NE, H-285, Salem, Oregon 97301
Email: Rep.JessicaVegaPederson@state.or.us
Website: http://www.oregonlegislature.gov/vegapederson
----------
02/08/16 - 1:00pm Room HR C - Senate Committee On Human Services and Early Childhood
Senator Michael Dembrow
Democrat - District 23 - Portland
Capitol Phone: 503-986-1723 District Phone: 503-281-0608
Capitol Address: 900 Court St. NE, S-407, Salem, Oregon 97301
District Address: 2104 NE 45th Ave. Portland, OR 97213
Email: Sen.MichaelDembrow@state.or.us
Website: http://www.oregonlegislature.gov/Dembrow
Senator Sara Gelser
Democrat - District 8 - Corvallis, Albany, Philomath, Millersburg, Tangent, and unincorporated parts of Linn and Benton County
Capitol Phone: 503-986-1708
Capitol Address: 900 Court St. NE, S-405, Salem, Oregon 97301
Email: Sen.SaraGelser@state.or.us
Website: http://www.oregonlegislature.gov/Gelser
Senator Jeff Kruse
Republican - District 1 - Roseburg
Capitol Phone: 503-986-1701 District Phone: 541-580-3276
Capitol Address: 900 Court St. NE, S-315, Salem, Oregon 97301
District Address: 636 Wild Iris Lane, Roseburg, Oregon 97470
Email: Sen.JeffKruse@state.or.us
Website: http://www.oregonlegislature.gov/kruse
Senator Laurie Monnes Anderson
Democrat - District 25 - Gresham
Capitol Phone: 503-986-1725
Capitol Address: 900 Court St. NE, S-413, Salem, Oregon 97301
Email: Sen.LaurieMonnesAnderson@state.or.us
Website: http://www.oregonlegislature.gov/monnesanderson
Senator Alan Olsen - Republican
District 20 - Canby
Capitol Phone: 503-986-1720
Capitol Address: 900 Court St. NE, S-425, Salem, Oregon 97301
Email: Sen.AlanOlsen@state.or.us
Website: http://www.oregonlegislature.gov/olsen