Minnesota: Authorities Find $1.4 Million Worth Of Marijuana Smuggled In New Ford Fusions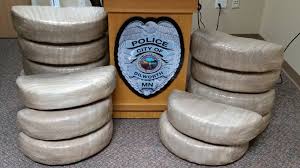 By Derrick Stanley
Hemp News
Police in the state of Minnesota have found approximately 1,100 pounds of marijuana hidden in the trunks of around 22 brand-new Ford Fusions manufactured and shipped from Mexico's Ford plant in February and March of this year, Alpha News reports. The total street value of the marijuana seized is around $1.4 million.
It began in February, when St. Paul authorities discovered 80 pounds of marijuana hidden in the spare tire wells of two Fusions ready for delivery in a railway vehicle holding lot. Authorities soon learned the cars were part of a larger group of 15 cars -- 13 of which had already been delivered to dealerships.
Police tracked down the remaining cars and found a 40-60 pound brick of marijuana in the spare tire well of each one. One of the Ford Fusions recovered had already been sold to an 86 year-old man. Police in Dillworth, Minnesota later found an additional 217 pounds of marijuana in seven more Ford Fusions after railroad employees discovered the drugs during a routine inspection.
Authorities believe the marijuana was placed in the cars by members of the Mexican Sinaloa drug cartel as they were loaded onto train cars for shipment to the US, and that the plan was to have someone break into the railway cars once they reached the US and recover the marijuana to be distributed.