Remembering Jim Klahr, Oregon Cannabis Freedom Fighter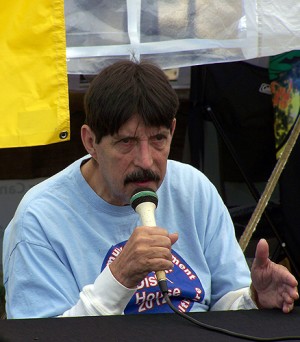 By Michael Bachara, Hemp News
Musician Jim Klahr, an activist working to establish cannabis as an option for healthcare providers in the United States and a pre-transplant patient at Oregon Health Science University (OHSU), passed away awaiting a liver donor at OHSU on November 9, 2014.
Days earlier, on November 4, 2014, Oregon residents voted to end marijuana prohibition with Measure 91. In the campaign's declaration of victory, Anthony Johnson, the chief petitioner of the measure, thanked Klahr for his dedication and commitment to the issues surrounding cannabis.
As a long-time Oregon medical marijuana activist Klahr continually expressed the need for cannabis advocates to run for political office to have their voice and views represented within the legislature.
Klahr was a founder of Oregon Green Free – to help those who utilize the Oregon Medical Marijuana Program to become self-sufficient under the law of the Oregon Medical Marijuana Act. He believed medicinal, social and sacramental cannabis all have their place in society.
As an eight-year member of the Oregon Advisory Committee on Medical Marijuana (OACMM), the committee established to implement rules for the state's medical marijuana program, he fought tirelessly for cannabis freedom, eventually serving two-terms as OACMM Co-Chair.
A chief petitioner on Oregon Measure 74, the 2010 initiative to improve safe access for medical marijuana patients, Klahr was also an instrumental spoke in the campaign to elect Attorney General Ellen Rosenblum in 2012.
Speaking with Hemp News on the passing of his friend, Oregon Green Free member Steve Wessing said, "Jim was a tireless fighter for patients' rights. He was one of our most sensible and wise voices in Salem. He took a personal interest in helping patients throughout the Northwest."
In a statement from Anthony Johnson regarding Klahr's passing, "Jim had an unwavering spirit that could not be broken. He worked so hard for medical cannabis patients even though he couldn't use cannabis himself as he awaited a new liver. While many of us can talk about our hard work and sacrifice, Jim Klahr literally gave his life to the cause. He was a true warrior."
An online statement from long-time friend and cannabis activist Anthony Taylor simply read, "Jim was quiet and soft spoken yet always on message. His work was unselfish and his spirit undaunted."
Footage: Jefferson State Hemp Expo
August 25, 2012
Footage: Salem Mass - Witch Burning - You Can't Run My Life - 1971
Written by Jim Klahr, Mike Snead, Steve Towery and Matt Wilson.