Spain: Collecting Signatures To Legalize Cannabis Associations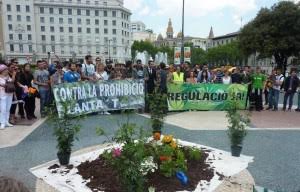 The representative of FEDCAC, Gemma Lago says that wants "a public health policy, recognizing the reality and not hiding it under a rug"
By Mike Bifari
Hemp News Correspondent
Popular Legislative Initiative (ILP) Green Rosa started Tuesday 120 days at its disposal to gather the 50,000 signatures needed to process in the Parliament a new law regulating associations of people who consume cannabis.
According to the representative of the two federations, the Federation of Cannabis de Catalunya (CatFAC) and the Federation of cannabis Self-Regulatory de Catalunya (FEDCAC), Gemma Lake, "many years known to prohibitionist policies do not work." "We want a public health policy, recognizing the reality and not hiding it under a rug, we do not want hypocrisy", said Lake.
Among the objectives of the ILP figure "that minors do not have access to cannabis" because they want to "say no to the black market and in retail parks", he explained Lake. The ILP "seeks to reach all people," plus the "300,000" registered partnerships in Catalonia. "In Catalonia has created a social model from civil society and the laws when they leave the civil society have much more value", said Lake.
"Catalunya is not an oasis" according to Lake, which has evoked the cases of Uruguay and Colorado, where the purchase of marijuana is legal. The lawyer Oriol Casals, the Civil Observatory on Drugs, hopes that "the ILP to relaunch the process and improve the current legal framework, in which money damages and trials with cannabis associations spent". The Parliament adopted in February 2014 the motion 77 / X for the commission of Health realize work for the Government regulate consumer associations. In January this year, the Parliament adopted resolution 932 / X on the necessity of adopting a rule that would regulate these associations.
The ILP proposed to establish "clear pattern of activity of associations of people who consume cannabis." In addition it is anticipated boost "adequate information, education and prevention of the consequences and effects, establish mechanisms for the protection of consumer health and enhance the activity from the perspective of public health". Be of age, cannabis user and have the support of another partner, would be the conditions for belonging to one of the associations, which in addition to distributing cannabis social clubs may be smoking cannabis or cannabis for consumption the drug.
Associations must have partners logbooks, log books of self-sufficiency, and distribution control register with the amounts withdrawn by each partner and a control register and Transportation will prevent transport drugs in public transport. Hygiene and prevention of risks and harm measures are also set. The presentation of the ILP has received support from various political parties and deputies and Marta Vilalta Alba ERC Verges, Montserrat Capdevila PSC, Quim Arrufat of the CUP and Deputy exconsellera unaffiliated and Health, Marina Geli.
Source: http://www.elperiodico.com/es/noticias/sociedad/recogida-firmas-para-reg...