Virginia: Industrial Hemp Legalized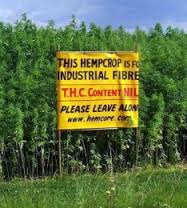 By Derrick Stanley
Hemp News
Thanks to new legislation, hemp will soon be grown commercially again in Virginia, WVIR-TV reported today.
Virginia Governor Terry McAuliffe signed a bill this week permitting the legal manufacture of industrial hemp products. The law goes into effect on July 1.
The Virginia Industrial Hemp Coalition (VIHC) called it a historic milestone after years of campaigning for legalization.
Hemp was banned for decades because of its association with marijuana. Hemp is a versatile, useful plant which can produce seed foods, hemp oil, rope, cloth, paper, and fuel. Many countries, including Canada and France, currently legally grow hemp.
"This is going to open up our farmers to that global market, and it's experiencing double digit growth as well because of the great reasons of the nutritious seed. BMW has it in their cars, a lot of people don't realize that. They're looking at putting manufacturing plants here in Virginia already," said Jason Amatucci with VIHC. The VIHC says the United States is the largest importer of industrial hemp products in the world, so growing it on US soil should be a big opportunity.
Many states cannot legally produce hemp due to a national ban from the 1970 Controlled Substances Act.