Oregon: Vote NO on Measure 26-180 Tax on Recreational Marijuana Sales - Portland Measure 26-180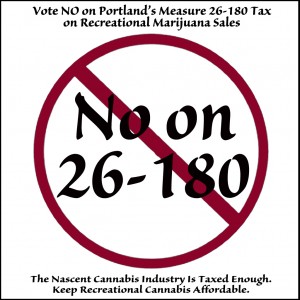 Vote NO on Measure 26-180 Tax Increase on Recreational Marijuana Sales (Portland Commissioner Amanda Fritz's Proposed Money-grab on the Nascent Cannabis Industry)
The Cannabis Industry Is Taxed Enough. Keep Recreational Cannabis Affordable.
* More than 70% of Portland residents voted yes on Measure 91, and tax funds have already gone above and beyond toward the programs that Oregonians supported with the measure: 25% for drug treatment, prevention and mental health; 40% for school funding; and 35% for state and local police.
* There are no specifics on where this money is to be used, aside from some broad topics that, some of which, are already supported under the State allocation of tax funds from legalization. What is to prevent another money-grab next year, and then the following? Say no now.
* Raising taxes only continues to support the black market, rather than help to decrease it in Portland. Forcing higher taxes in turn raises prices for the consumer, only re-enforcing the black market. This hurts the growing cannabis industry.
* According to Mayor-Elect Ted Wheeler, "I think we need to start acknowledging that this is an industry with tremendous opportunity to help employ thousands of Portlanders and Oregonians at large. We have the ability here to lift people out of poverty and decrease the income inequality we've seen growing across this city, across this state, and across the country. And, in a city and state that's about compassion and looking out for one another, this industry should be seen as the opportunity that it is to help better our society and grow our economy." Limiting the ability of new businesses to hire staff is counter-intuitive when we desire our small businesses to be job-creators.
* Stand with Mayor-Elect Ted Wheeler when he states, "I believe that the mayor and the city should be working more closely with regional partners and state officials particularly with those at the Oregon Liquor Control Commission (OLCC) making sure that were not duplicating rules and regulations, making sure that were not putting undue expectations on the industry or undue costs by duplicating licensing fees, and just treat this industry with the same respect as any other legal and regulated industry in our state."
BALLOT TITLE
Establish tax on recreational marijuana sales; dedicate purposes for funds
QUESTION
Shall Portland establish 3% tax on recreational marijuana sales; fund drug, alcohol treatment; public safety; support neighborhood small businesses?
SUMMARY
Measure establishes a tax of three percent on recreational marijuana sales within the City of Portland. Measure is expected to raise $3 million per year.  Sales of marijuana to medical marijuana cardholders shall not be taxed. The 2015 Legislature reduced the state tax on recreational marijuana sales from 25% to 17% effective January 1, 2017, and allowed local jurisdictions to ask for voter approval of a 3% local tax. Net proceeds from the tax will be dedicated to drug and alcohol education and treatment programs, services that increase access to these programs, and rehabilitation services; public safety investments, such as police DUII training and enforcement, firefighter paramedics, street infrastructure that improves safety; support for neighborhood small businesses, especially women-owned and minority-owned businesses; and providing economic opportunity and education to communities disproportionately impacted by cannabis prohibition. Requires independent City Budget Office oversight, annual public reporting, annual City Council vote on allocations, periodic audits on use of funds.